Our WE Hub launch event, a one-day conference, took place on November 21, 2019 at IATA Conference Center Geneva Airport. Following is a summary of the various Keynote Topics. PowerPoint presentations are available here for participants only (password protected).
---
Learn. Connect. Advance.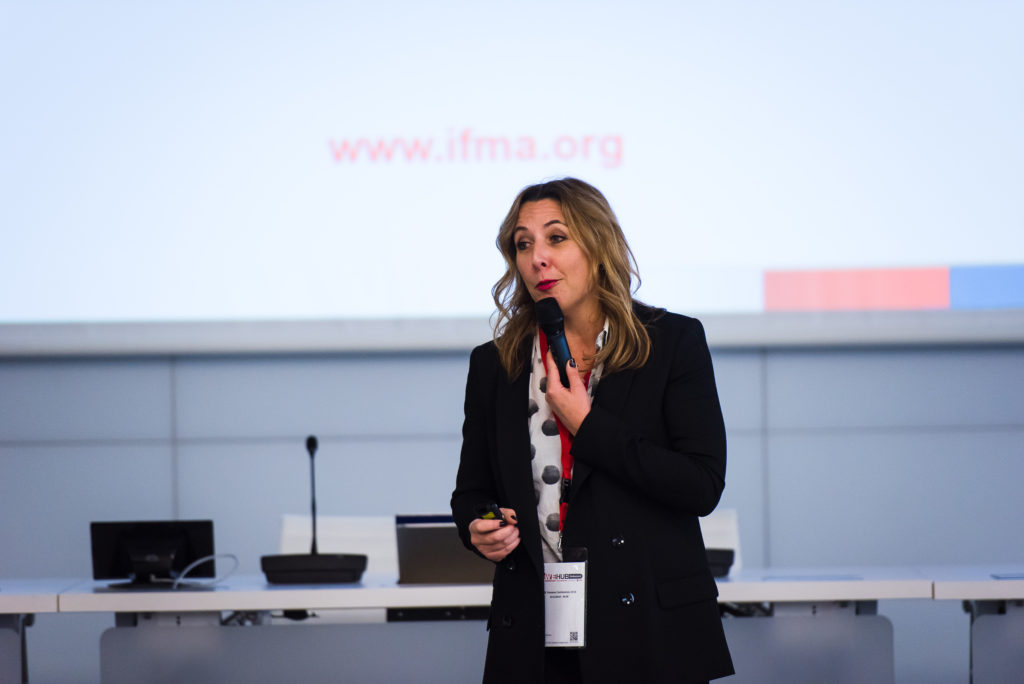 Lara Paemen – Director IFMA EMEA
Lara welcomed the audience at the start of this event to launch the Workplace Evolutionaries HUB in Switzerland, WE. WE is a community of IFMA, the world's largest and most widely recognized association for Facility Management professions, the International Facility Management Association. IFMA's 24,000 members in 106 countries collaborate to define the future of FM. IFMA offers leading FM Training with credentials and connects members by building valuable professional relationships.
The many areas of activity a Facility Manager is expected to deal with could be understood as a mind map with 3 branches, Management – Property – Services. The Management branch alone has many branches ranging from Corporate Social Responsibility, Compliance, Administration, Technology, Strategy, Customers and Risk. The Services part has branches that focus on Security, Maintenance, Cleaning, Support and Catering. Property functions address Capital Projects, Cost of Ownership, Transactions, Workplace and Interior Design. More information about IFMA Chapters, Communities and Councils with Industry-specific subgroups can be found at www.ifma.org
---
Workplace Management, The Next Ten Years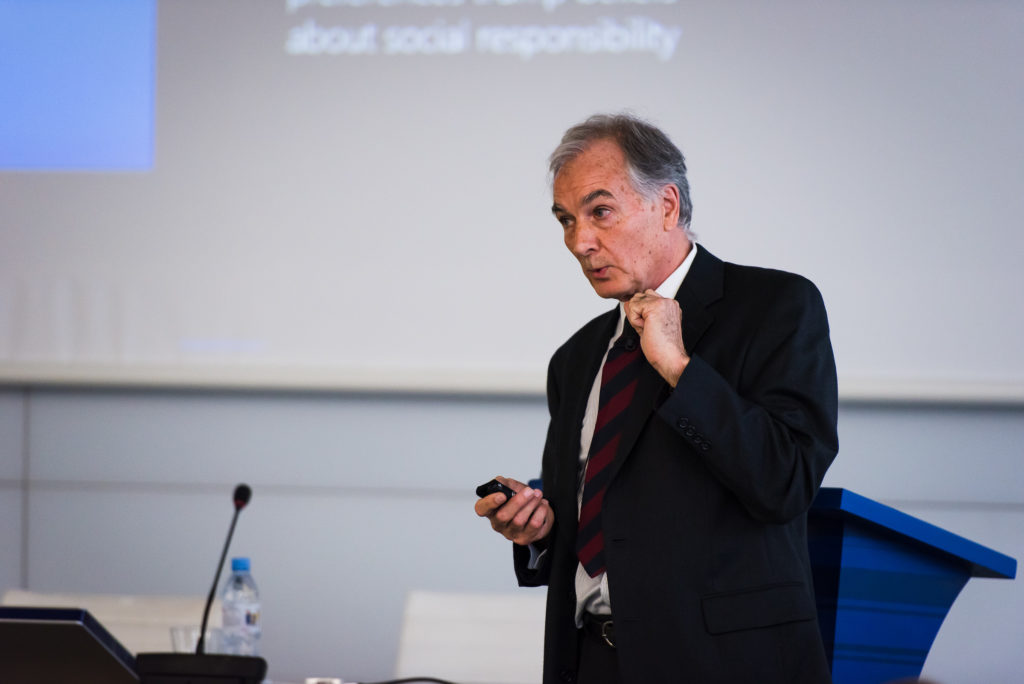 Chris Hood – Director of Consulting for Advanced Workplace Associates (AWA)
Fresh from IFMA's World Workplace in Phoenix, Chris Hood presented a provocative look at what lies ahead for Workplace Management over the next ten years, raising awareness for the need for human-centred design solutions and integrated workplace management. The headlines of Chris's keynote speech were thought provoking. The deteriorating sate of our planet, Artificial Intelligence and bots replacing jobs, massive shrinkage of permanent workforces and ethical considerations about how we want to run our lives are now part of the daily news cycles. In our profession, facts and figures count. Few in the room knew that with 2030 only 10 years away, 7 out of 17 of the UN's Sustainable Development Goals and Targets have to do with buildings.
With 2030 on everyone's radar at this point of his keynote, Chris shared recent research from PwC, a consultancy, postulating four scenarios developed in "Workforce of the Future" – The Competing Forces Shaping 2030 – PwC*. Humans Come First (Yellow)*, Companies Care (Green)*, Innovation Rules,(Red)* or Corporate is King (Blue)*. The audience used Mentimeter to vote in real time for their personal preferred scenario and the scenario which would probably become reality. The intense discussions in the networking break that followed is a testimony to the pertinence of following the evolution of the workplace and asking the question now "Where will we be in ten years?"
---
The Missing Link for Workspace Optimization – Fair and Caring Leadership
Raphaël H Cohen – CEO, Serial Entrepreneur, Professor, Academic Director, Executive Education
The best workspaces will never compensate for the drawbacks of a poor corporate culture. This session presented tools for changing corporate cultures to support the objectives of workspace improvements. Few organisations are measuring leaders for increasing engagement. Seeing the larger picture to understand the correlation between benevolent leadership and performance, productivity and creativity, along with the benefits of attracting and retaining loyal employees are subjects on the radar of too few organisations today.
Employee engagement levels in Switzerland are at 23%, compared to 13% in Germany and 19% in France. The percentage of Swiss employees, however, who would recommend their employer is only 54%. The average rating by employees in Switzerland for their boss is 6.2 / 10 … and new generations with evolving attitudes to hierarchy and values is impacting every organisation operating today.
Professor Cohen's suggestions and closing message resonated with the audience. "Make sure that culture and workspace will synergize to maximize engagement." "Team up with experts who have tools to measure engagement before and after workspace improvement projects." "Help organisations change their cultures and their governance." "Exploit the changes in workspace to support the change of culture."
---
The current state of workplace strategies – Evolution of workplace concepts and strategies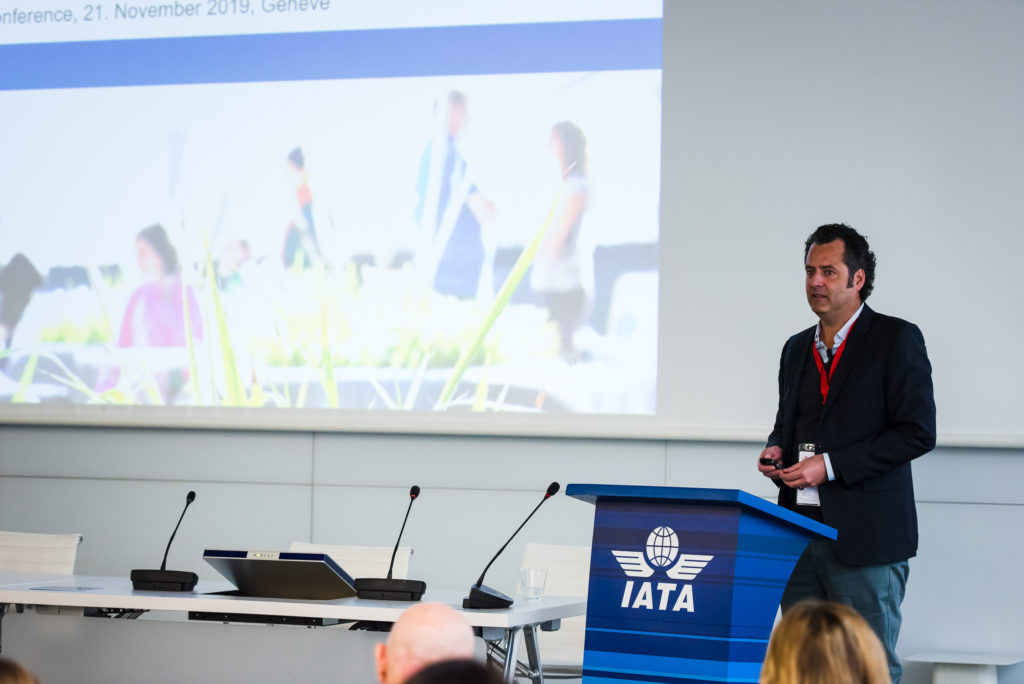 Professor Lukas Windlinger – Institute of Facility Management, Zurich University of Applied Sciences
Professor Windlinger shared his reflections on the bombardment of "Fake News" confusing the public and decision makers about work environments adapted to our current workplace challenges. Facts and figures, as in previous keynotes helped the audience focus on the real issues. On average at any given time, 45% to 65% of workplaces are empty or show signs of life from people doing other things in other parts of the workspace.
He presented results of research focused on the effects of activity-based working concepts and focused on the types of work settings used daily. Surveying employees about how well the work settings support their work activities, how attractive the design is or how comfortable the work environment is, if it supports goal achievement, can be configured for personal needs or if the settings are available when needed, illustrated a range of measurables to consider in light of emotional pushback so common to workplace change projects. The audience were given a range of factors to estimate how the work environment influences engagement. Factors include retreat spaces, the aesthetic appearance, control over lighting, ventilation and temperature, climate and outside views.
The potential for the further development of workplace strategies and workplace concepts can be projected from measurements that compared job design to office design. Each effect the other, however striking correlation between office design and office satisfaction, job satisfaction and health are newsworthy for decision makers. The quality of the workspace ranked second after variety in job design.
Furthermore, when considering the long-term costs of owning and using buildings, the breakdown of business costs zooms in on the minimal percentages of Facility related costs compared to the salaries of the people using the workspaces. Salaries account for 85% compared to 6.5% for construction, 4% for mechanical and electrical maintenance and running costs, 1.25% for furniture and furnishings, 1% for building maintenance, 1 % for cleaning / security, 0.75% for M&E services and 0.5% for maintenance and depreciation costs of furniture and furnishing.
Professor Windlinger's concluding remarks explored the potential fields of "Workplace Management and Workplace Experience" as a new, action-guiding concept focusing on an intelligent balance of costs, effects on health – wellbeing – satisfaction and performance, combined with enhanced social behaviour and evolving organisation cultures that consider the total workplace experience. The workplace strategists in the audience recognized the ranking of the factors driving the concepts for new work environments. Improving communication and collaboration is at the top of the list, followed by increased flexibility and cost reduction. Other factors consider ways to enable new forms of work, enhanced innovation, improved concentration, creativity and employee engagement.
Two factors gaining recognition as we cross into the 2020's focus on improving morale at work, feeling pride in the employer and exploiting the potential of new technologies. The closing remark, citing a quote of Mark Eltringham "the difference between office design and Facility Management is the difference between sex and parenthood." FM is for the long term.
---
High Performance Workplaces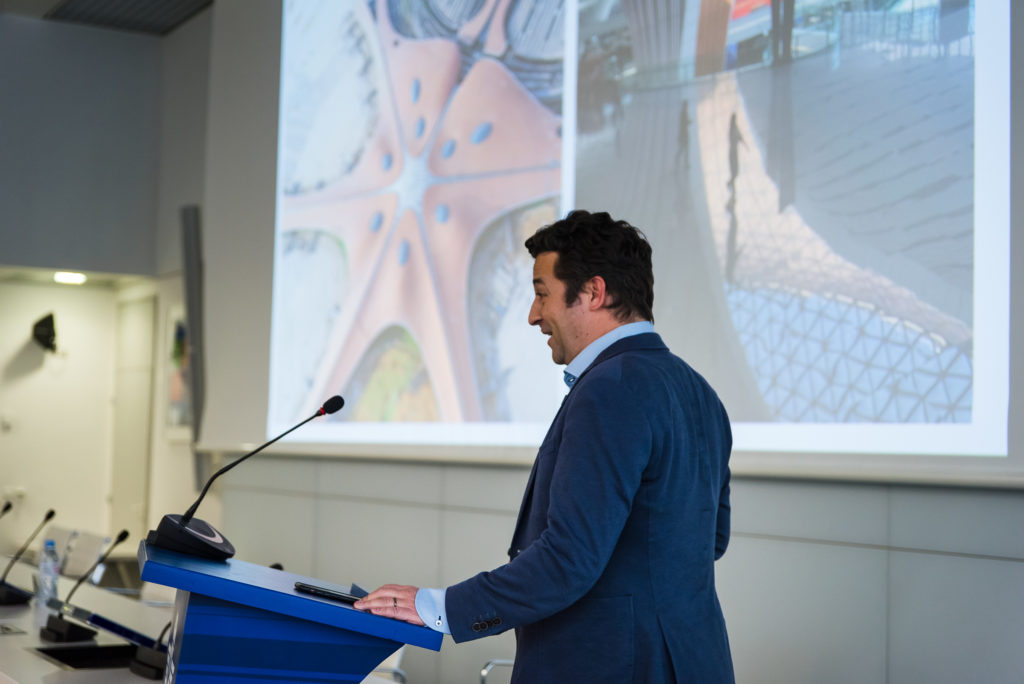 Ulirich Blum – Co-head of Zaha Hadid Architects – Workplace Strategies Department
Showcasing the award-winning work by Zaha Hadid Architects, Ulrich Blum, an expert in parametric workplace design talked about the future of office buildings and how they are developing in a global context. Ulrich shared ZHA's latest workplace projects and explained how elaborate computational workplace tools help to shape the workplaces of tomorrow with automated floorplate analysis and space planning to provide more rigorous user-centred workplace design than previously possible.
---
Join. Explore. Dare. Setting a new benchmark: 2226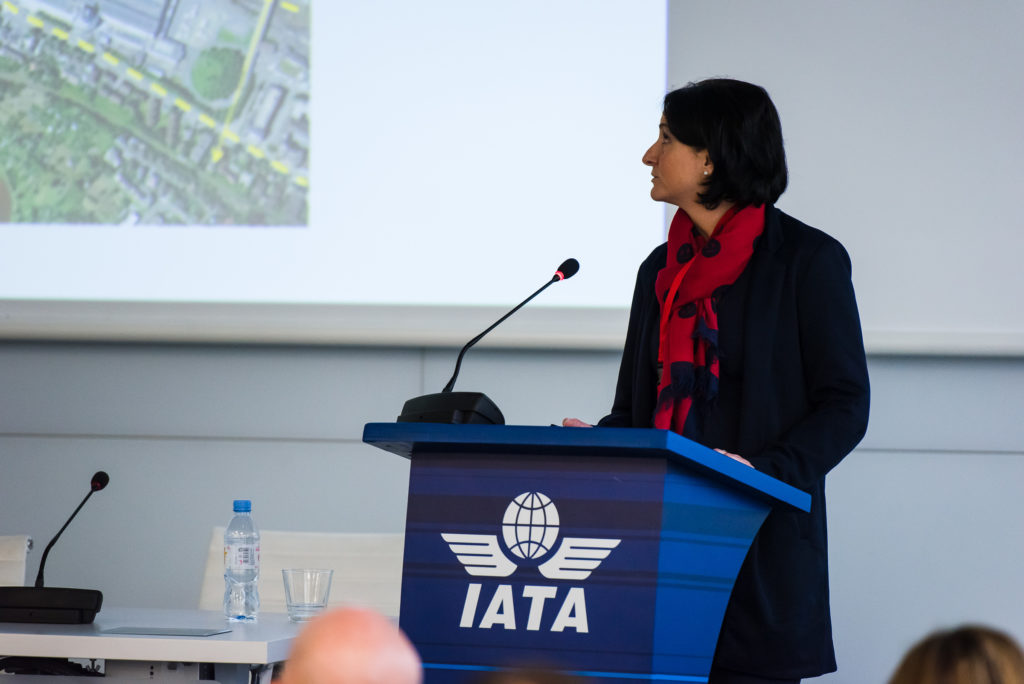 Angelika Gröschl – Executive Board Member at immoveris
By the beginning of 2022, the Innovation Hub JED at the gateway to Zürich will be completed. The site will then be home to what is sure to be the most progressive workplace in Switzerland. A new construction, which follows the ecological and economical building concept "2226", will provide new solutions for an ideal working climate between 22° to 26 ° Centigrade without means of conventional heating, air conditioning or ventilation systems.
---
Roundtable "FM meets HR"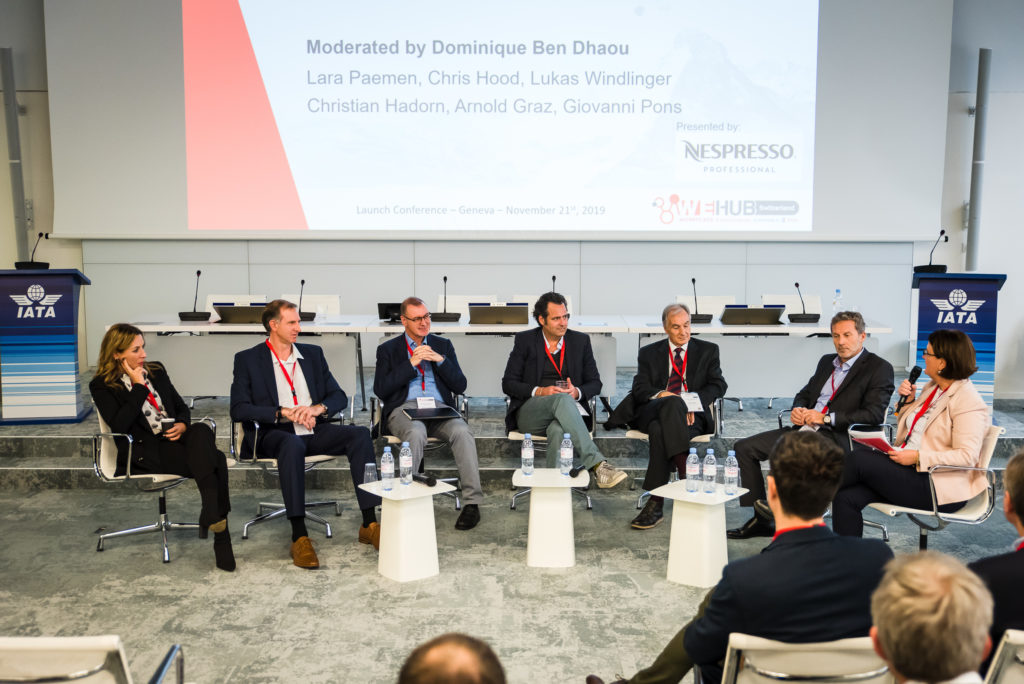 Facilitated by Dominique Ben Dhaou – founder and Managing Director of Point North International
Lara Paemen, Chris Hood and Lukas Windlinger from the earlier sessions animated the panel of experts with Christian Hadorn – Facility Management Consultant at Spaceonmove, Arnold Graz – Sharpmania and Giovanni Pons – Senior Facilities Management Lead at Nestlé
A recent International Survey by Workplace Evolutionaries identified the most challenging topics confronting our fellow WE professionals. This session addressed the top 4 subjects identified in the WE Survey:
Change Management, a critical success factor for successful Workplace Transformation.
The Case for Change with Data-Driven components from across organisational silos.
The importance of integrating FM, IT, HR and Leadership in Workplace Transformation programmes.
Well-Being at Work: Attracting and Retaining Knowledge Workers in 2020.
The Panel of Experts contributed strategic directives and suggestions to take away and apply without delay:
This evolution is inevitable. Are we ready for New Ways of Working (NWOW) in Switzerland now?
Technology and demographics are pushing all organisations towards Any time – Any place work methods. A seamless journey towards NWOW is ideal.
Building Trust is critical. Sharing information is critical. Caring is critical.
Create workplace experiences that touch all of the senses.
Draw in people from different profiles.
We need to care more about the purpose of the building.
Have the right leader. Have the right culture. Address the new roles of managers and set goals that include engagement levels.
People do want to go further. Use your workplace to make a difference.