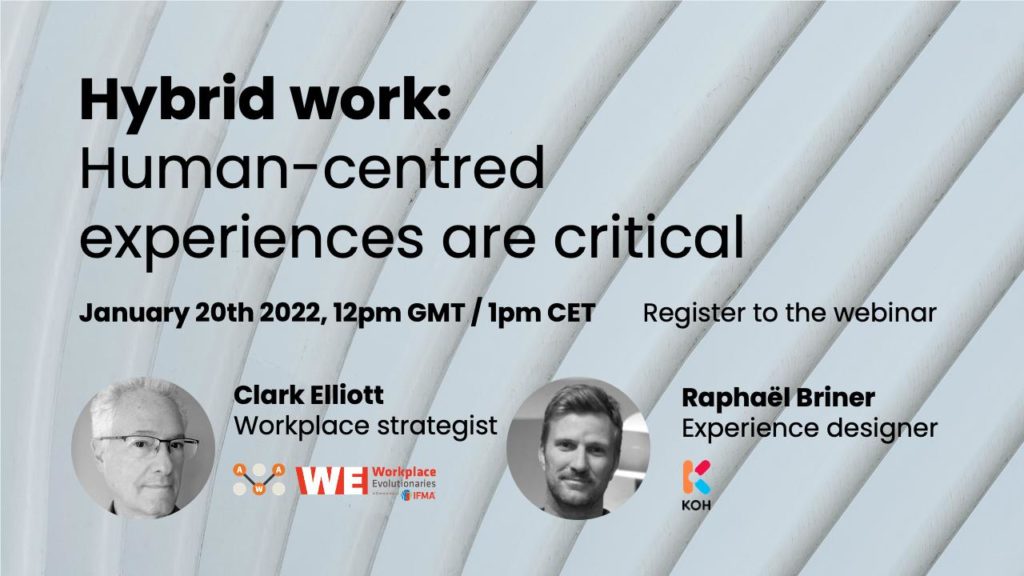 Join Clark Elliott, Workplace Strategist, and Raphaël Briner, Experience Designer. They will examine how redesign of office spaces and technological advancements can better support collaboration, engagement, and experience.
This is correlated with developing high levels of trust and psychological safety within organisations. Social scientists have begun to understand how the massive Work From Home experiment has advanced an increased focus on Diversity, Equity and Inclusion. Forward-thinking organisations are seeking to assure all stakeholders that it is safe to bring their full authentic selves to work and be inspired to contribute freely at optimal levels.
Clark and Raphaël will be happy to answer live your questions submitted on the chat. Here are some of the topics we plan to address.
– Which activities are best done in the office and which are optimally performed when working from home?
– What are the latest workplace trends?
– How do DHR, IT and workplace managers work together to adapt to hybrid work?
– For optimal hybrid meetings, what are the best practices?
– To what extent can technology help all workers to participate on an equal footing?
– At this stage in the pandemic, why should leaders care about it?
– How will hybrid work evolve in the coming years?
This event is organised in co-operation with WE and Studio KOH.