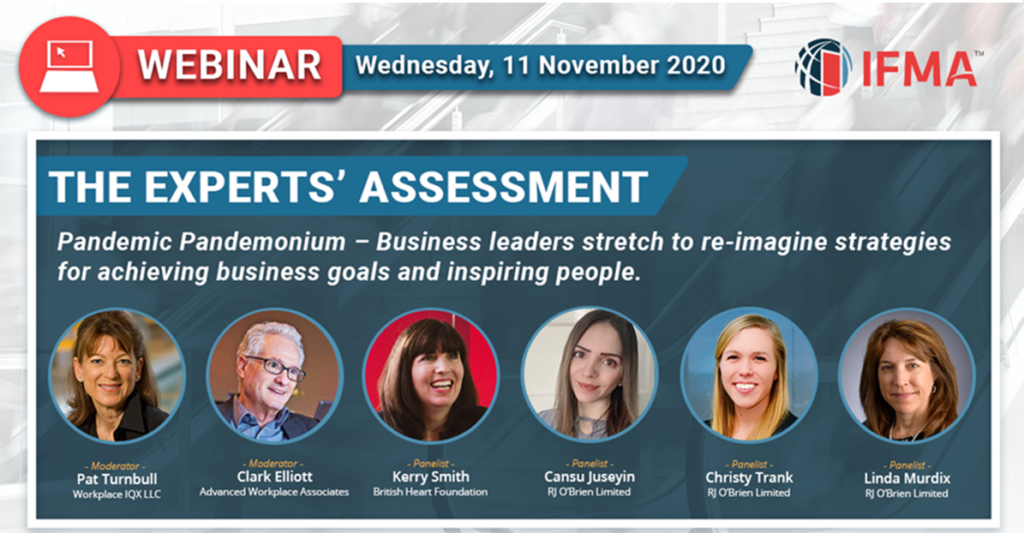 About: IFMA's The Experts' Assessment: The Workplace Post-COVID-19 study identified Human Resources as a critical discipline poised to lead organizations through Workplace Strategy development and Workplace Transformation programs. Come join us in discussions with international HR, FM and Workplace experts who will share their experiences and point of view. Today, business leaders are re-imagining strategies for achieving organizational goals and their approach to managing/inspiring people. The explosion of remote or 'distributed' work has expanded the definition of 'workplace' to include both physical and virtual work environments. Daily routines around how we work, learn, socialize and rejuvenate have been disrupted and working from home (WFH) has become the new norm for knowledge workers. How are organizations balancing crisis management, risk mitigation and delivering results along with the challenge of re-imagining the world of work? How can Workplace Strategy help accelerate the journey to achieve business goals and support workforce satisfaction and productivity?
This LIVESTREAMED session will explore:

– How organizations are assessing current challenges and setting future vision/priorities for how we will work in the future

– Insights into the role of HR and crisis management teams in developing workplace strategies with multi-disciplinary teams

– How organizations are translating current challenges into positive outcomes…even opportunities!

– Key lessons learned during the pandemic.


Register now: The Experts' Assessment;Pandemic Pandemonium